Pre-departure APMCDRR Meeting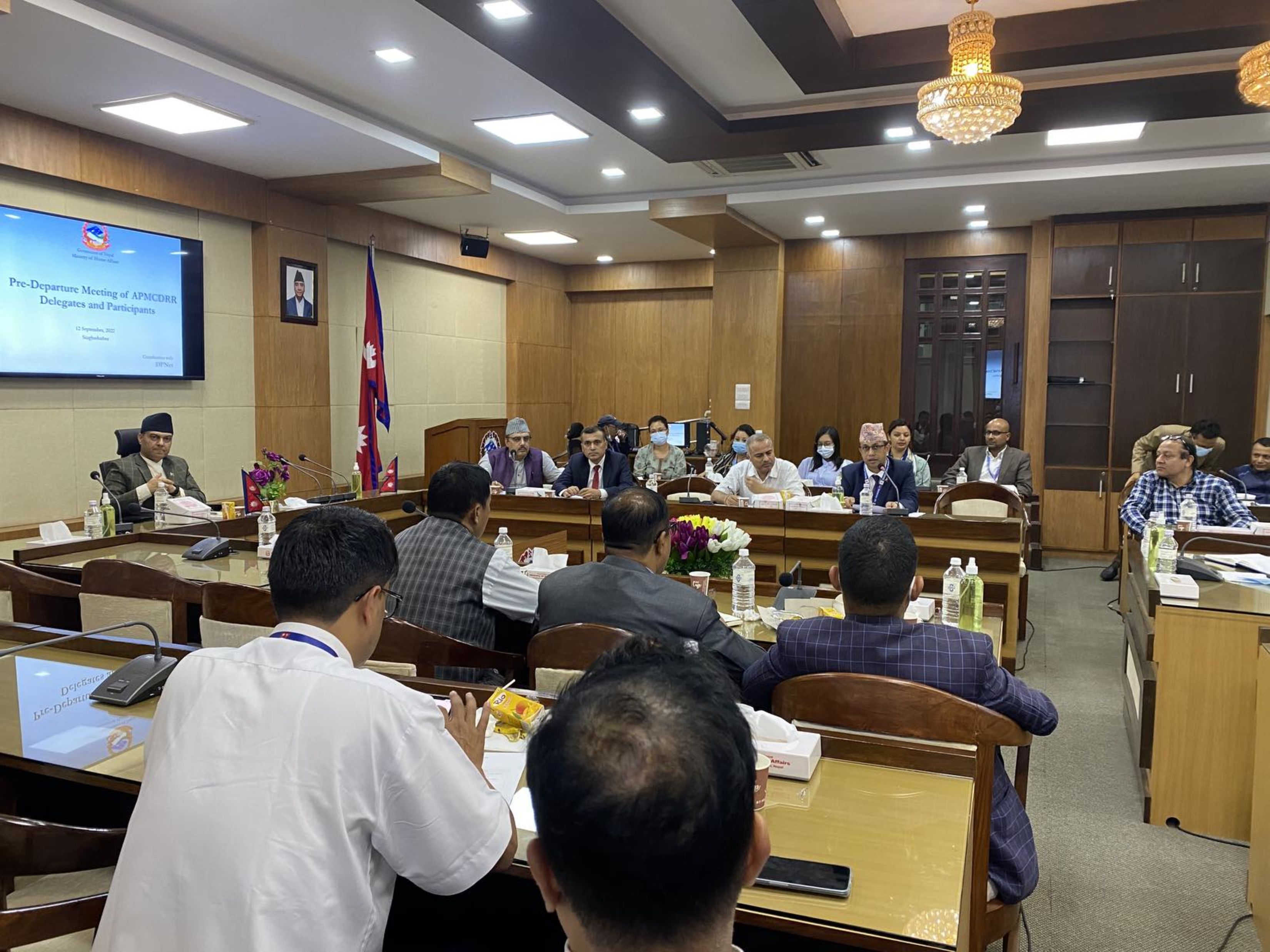 Pre-departure Meeting to participate in APMCDRR event was organized on 12th September, 2022. The meeting was chaired by the Secretary of Ministry of Home Affairs, Mr. Tek Narayan Pandey and facilitated by Chairperson of the DPNet Mr. Surya Bahadur Thapa. Around 50 prospective prospective participants of APMCDRR attended the program.
Mr. Surya Bahadur Thapa informed that DPNet as secretariat of NPDRR has been coordinating rigorously to ensure the meaningful participation of Nepal in the upcoming APMCDRR. He emphasized that we have to be very careful on what we are presenting in the conference. We are attending there representing Nepal not a single agencies or individuals. He requested all prospective speakers of the conference to present briefly today on what they are presenting in the conference.
Mr. Pradip Koirala, Chief of Disaster and Conflict Management Division of Ministry of Home Affairs in his welcome speech highlighted the importance of the engagement of wider stakeholders in regional and international platform to showcase our best practices and lesson learned among international communities. He further highlighted that if we have any contentious issues we can sort out in such big round table and represent single Nepal in any international platform. He highlighted that we have finalized official statement and position paper accommodating the feedback of wider stakeholders. Now we should focus on Nepal Marketplace to showcase our effort.
Dr. Raju Thapa, Deputy Chair of DPNet presented about the APMCDRR event, preparatory works and future activities for the meaningful participation of Nepal delegation in the event. In his presentation he briefly described history of APMCDRR, previous participation of Nepal and things to be considered by prospective participants. He informed that so far official version of position paper published and printed in both hardcopy and Braille. He requested participants to provide materials to be showcased in the APMCDRR marketplace by 14th September.
As requested, participants presenting in the APMCDRR various session shared the summary of their presentations. Dr. Raju Thapa shared that he is going to present on Nepal's effort to institutionalize and localize humanitarian standards. Mr. Pallav Pant shared that he is going to present on private sector's involvement in disability inclusive disaster risk reduction. Reena Bajrachrya of Youth Innovation Lab shared that she is going to showcase Viz-risk and IT to localize risk informed disaster risk reduction. Dr. Dharam Upreti from Zurich Flood Alliance said that alliances will have a marketplace to share efforts to mitigate flood risk in Nepal. Dr. Ramesh Guragain from NSET share that they will prepare miniature and prototype to visualize the earthquake risk in a various types of buildings.
Chairperson of Asian Disaster Risk Reduction Network (ADRRN) Dr. Amod Dixit shared that in any GPDRR conference GNDR represents civil society whereas in any regional APMCDRR event, ADRRN represents civil society in a similar way. He has shared preparatory works of ADRRN in APMCDRR.
In a concluding remarks Chairperson of the program/ Nepal Delegation Head of APMCDRR and Secretary of Ministry of Home Affairs, thanked all stakeholders specially NPDRR and its secretariat DPNet for outstanding preparatory work for the meaningful participation of Nepal in upcoming APMCDRR. He emphasized on Dr. Thapa's presentation on strict bio security issues of Australia to cross custom and immigration and requested all to not carry agro, dairy and other prohibited items. He further requested all participants to present our best practices and learning there to import our DRR knowledge and experience among international stakeholders. He wishes all the best for the all prospective participants.