Monthly dialogue program on Sharing of EpiNurse Project Activities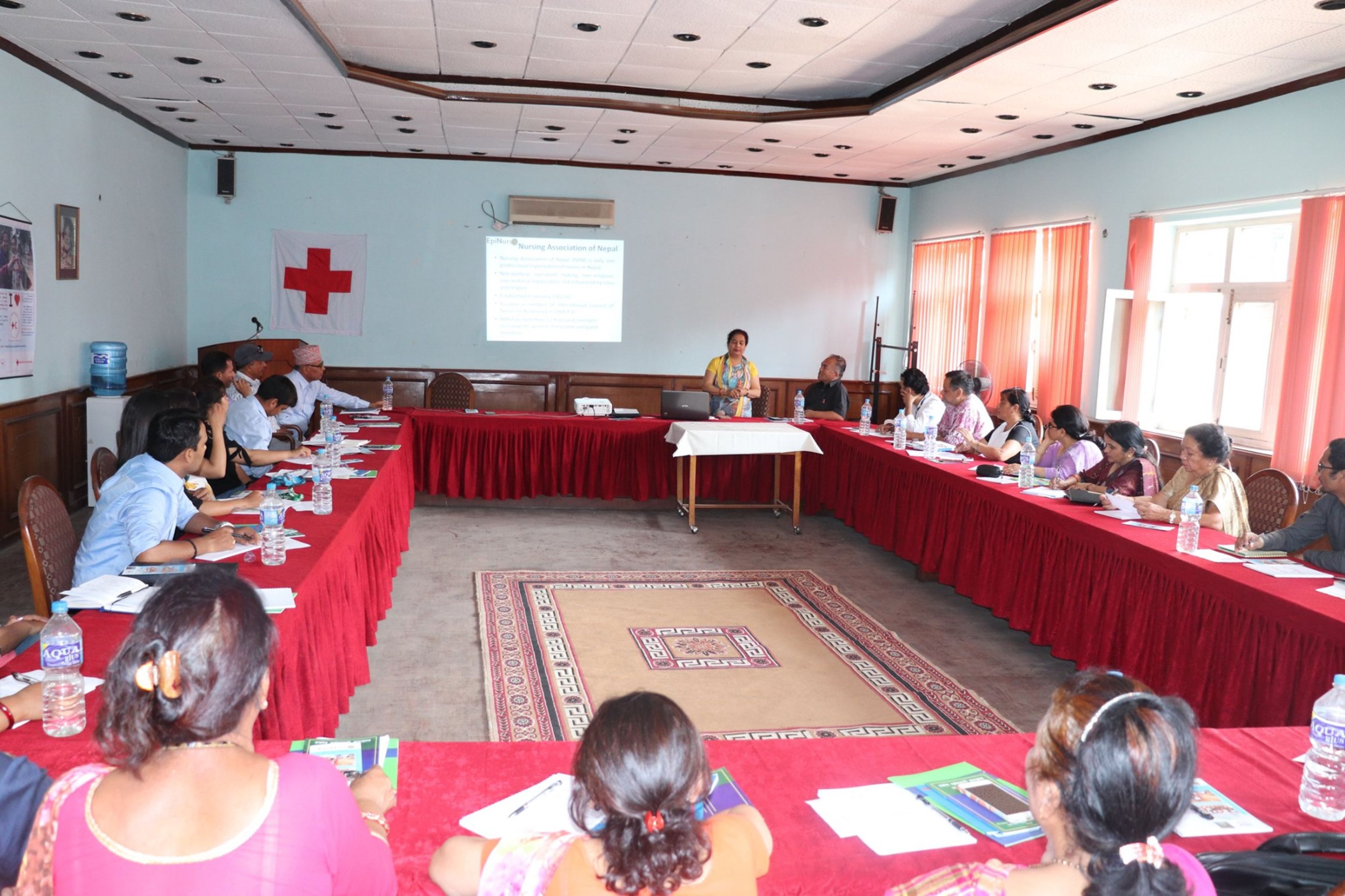 Monthly Dialogue
The dialogue program on sharing of EpiNurse project activities was organized on 20th June 2019. The program was chaired by Mr. Ram Prasad Bhattarai, Vice Chairperson of DPNet-Nepal. whereas, Representatives from Ministry of Health, Nursing Association of Nepal(NAN), and DPNet member organizations was actively participated in the program. The program was facilitated by Admin and finance officer of DPNet-Nepal Mr. Keshab Bhattarai. Altogether, 35 participants representing, government agencies, I/NGO and donor participated in the program.
Major highlights:
Presentation about EpiNurse project
Ms. Apsara Pandey, vice president of NAN shared the presentation about the EpiNurse project, shefocused her presentation on the major activities of the project its mission, key achievement, way forward and risk award 2017. She shared that the mission of the project is to visualize and summarize health security in real time with Nepalese local nurses who conduct the daily monitoring by using the toolkit in order to protect health and safety of people and communities as disaster risk reduction. Similarly she shared that as part of the risk award 2017 the project has been awarded with €100,000 from Global Risk Forum Davos and UNISDR. She concluded her presentation sharing the key achievement of the project; Community based post disaster assessment at Rautahat flood – 2017, Bhaktapur Flood – 2018 and Tornado at Bara, Parsa – 2019,EpiNurse Application (Smart Phone) both in Nepali and English, prepared trainers, EpiNurse capacity building training,Disaster Risk Record Diary,EpiNurse Promotional Video and development of MOU with province 3 government (Social Development Ministry).
Open Discussion
Participants raised their concerns based on the presentation shared. Mr. Rishi Adhikari from Mission East express his views regarding the overall program. He concluded and expressed his concern that it is a big milestone as regard to integrate EpiNurse in DRR sector. Since the post activities were shared in the program, his concern was to conduct program as to share pre activities in the days to come. The major findings seem very hypothetical so he suggested being realistic on it. Mr. Sabin Adhikari from Nepal Red Cross Society suggested that as regard to smart application it should be better to coordinate with NRCS as to avoid duplication. Mr. Bhesh Bahadur Parajuli from DPNet appreciated NAN for their accomplishment in DRR and being success to be rewarded as risk award 2017. He added that duplication in any activities should be avoided by coordinating the concerned line agencies. Ms. Apsara Pandey addressed on the discussed concerns thanking respective representatives in the program.
Key Remarks
Chief of HEOC Mr. Chudamani Sharma thanked DPNet-Nepal and NAN for conducting the monthly dialogue program as a regular program of DPNet. He added that EpiNurse is one of the successful and renowned project, so sharing the project activities matter a lot to the concerned authorities for the upcoming project of similar outcome. It is really of great to be awarded with risk award 2017. Since the project has been accomplished the discussions and concerns should be noted for the upcoming similar project. He concluded his remarks stating thatintegratingEpiNurse in DRR is a matter of concern and the project is successful in doing so.
Closing Remarks
Mr. Ram Pd. Bhattarai vice chairperson of DPNet Nepal formally closed the program with his closing remarks stating that the shared EpiNurse project activities are relevant as per the present context and overall discussion is fruitful, the modality should be followed in the upcoming project design incorporating the current discussion. Furthermore he thanked all the participants of the program.