Discussion Meeting on APMCDR Preparatory Work and Contextual Issues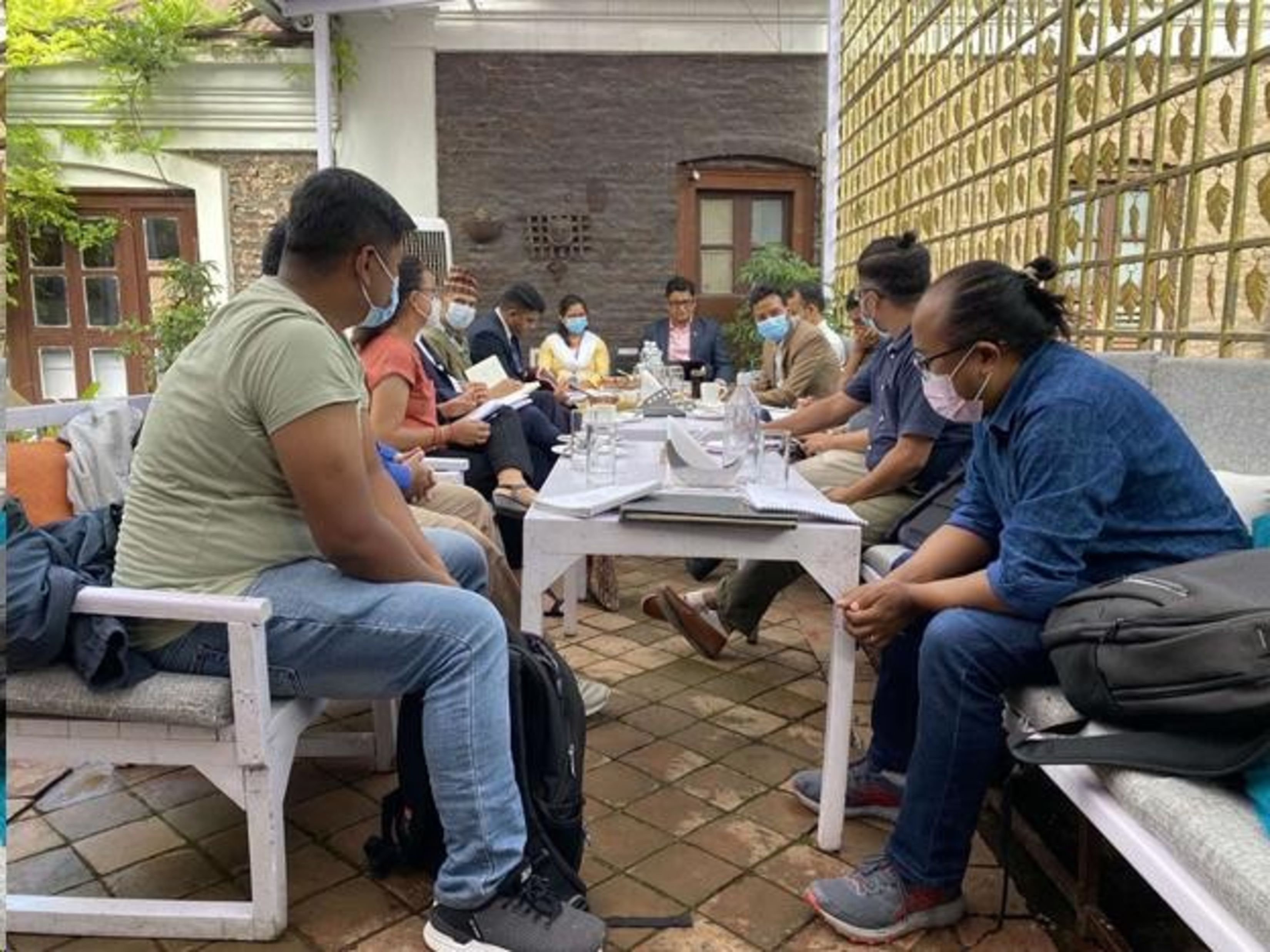 The discussion meeting on APMCDRR preparatory work and contextual issues was organized by DPNet in collaboration and coordination with AINTGDMCC on 11 August, 2022. The program was chaired by Mr. Anil Pokhrel, Executive Chief of NDRRMA. The special guests of the program were Ms. Anita Niraula, Joint Secretary of NDRRMA, Mr. Tulsi Prasad Dahal, Chief of Disaster Management Section, MoHA.

Dr. Raju Thapa
Dr. Raju Thapa, Deupty Chair of the DPNet highlighted the agenda of the program that were about the preparation of APMCDRR, NPDRR plan, about World Humanitarian Day celebration and urban flooding in Kathmandu.
He further informed the APMCDRR preparatory work played by DPNet as secretariat of NPDRR. DPNet has booked a marketplace in APMCDRR, where Nepal can showcase good practices and lessons learned from Nepal in the marketplace. Special attention should be given to prepare position papers, official statements and videos.

Discussion
The video should include about the loss and damages done by disaster in Nepal, reconstruction and resilience and about flood, earthquake, landslides and COVID.

It would be better if we got a chance to showcase our video in the main event.

The video should be about the theme 'crisis to resilience' and include about the three pillars and cross cutting issues.

We should review the commitments from Nepal during the previous position paper and work in it.

We have done a lot of effort in position paper preparation during GPDRR 2022. So, this may not need a lot of time and add regional references.

We should also ensure the ownership of video.

The climate fund couldn't get proper utilization in case of disaster risk reduction.

We need to learn other's achievements and should showcase Nepal's achievements.

There may be many sessions that are relevant to Nepal. If we know about those sessions and schedule, it would be easier to participate.

The conference is all about networking and coordination.

The video should be inclusive and evidence based.

We should be clear about the issues/ central point to raise in the conference.

Meeting decided to form eight members APMCDRR Preparatory Task Fornce comprising, 1. Anita Niroula, NDRRMA, 2. Dr. Dijan Bhattarai, NDRRMA 3. Tulsi Prasad Dahal, MoHA, 4. Dr. Raju Thapa, DPNet 5. Dinesh Gurung NPDRR INGO Group 6. Sajana Neupane, AINTGDM, 7. Sunita Kayastha, UNICEF, 8. Dinanath Bhandari, DRR Expert
Humanitarian Day Celebration
Humanitarian Day is celebrated each year on 19th August, 2022. It would be better if the day is celebrated in person and online (hybrid model) both ways in coordination and collaboration with many stakeholders.

Discussion
The civil society practices should be presented in the event.

We should felicitate the frontline workers.

One organization and one presentation would be a better idea.

It would be effective if there is panel discussion.

If we go on a hybrid model, we should try to include participants from municipal levels online.

DPNet should coordinate to organize the event successfully.
NPDRR further action plan
The logo, letterhead and branding should be made for the NPDRR subjective committee which resembles all the nine thematic groups. The action plan of NPDRR should include around 53 activities including NPDRR subjective group meetings, NPDRR subjective monthly meetings, meetings with stakeholders, committee engagement meeting and ground breaking research.

Discussion
It was discussed about strengthening the NPDRR and secretariat.

The Action Plan about NPDRR should be reviewed every year and it should focus on uplifting all thematic groups.

Platform should focus on discussion and comments rather than organizing events.
Urban Flooding
There is flood in the Kathmandu area affecting 800 households having 1500 families (unofficial). There is the problem of tents and open space. There is another problem of drainage overflow in flood in Bansighat, Tripureswor area and there has been issues generally in urban emergencies.

Mr. Surya Bahadur Thapa
Urban refugees have been a political issue as well. On the other hand, NPDRR has a clear objective and we need to focus on these objectives rather than focusing on others. While we share stuff on an international platform we should review and ensure this earlier.

Ms. Anita Niraula
The position paper prepared during GPDRR should be reviewed for the APMCDRR and the commitments during previous international events should be incorporated this time. It is very important to have the NPDRR logo, letter and branding and a 5-year action plan should not be duplicated with organization's events. There should be a committee of certain members to work on humanitarian day celebration. It would be better if the humanitarian day was celebrated in a hybrid model.

Mr. Anil Pokhrel
We should have a separate space for the NPDRR workforce. We should have a separate logo, letterhead and branding from NPDRR. The action plan is very important and the documentation of each event is mandatory. NPDRR has a collective identity. So, it requires enough resources and technical support to organize programs and events. For APMCDRR we should merge all the marketplace from Nepal and make wider space. This time also we have to create a WhatsApp group to communicate. It's better to celebrate humanitarian day in a hybrid model by forming the taskforce group.