Province Level Sphere Training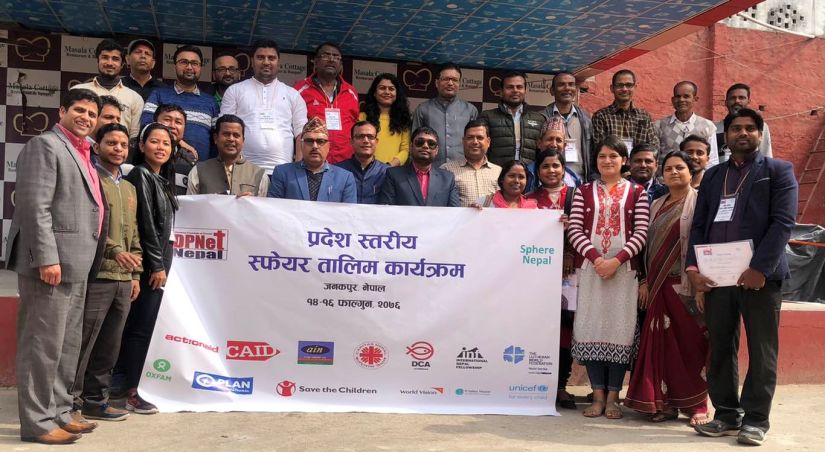 Province Level Sphere Training
Three days Province level Sphere training was organized by DPNet-Nepal in coordination with Sphere Nepal on 26th -28th February 2020. The three days training was facilitated by the Sphere ToT graduates Mr. Bishnu Prasad Timilsina, Ms. Luna Khadka, and Ms. Shubha Kamana Mandal. Altogether 28 participants participated from various organizations from 8 districts of Province-2.
The training was initiated with the introduction of the program, participants and objective sharing. Sessions on day-1 included sessions on STP-3, what is Sphere-Standards in context; STP-4, Humanitarian Principle, STP-5, protection principles; STP-6 Core Humanitarian Standard. Similarly, day-2 included sessions on three technical chapters, STP-7, WASH; STP-8, Food Security and Nutrition; STP-9, Shelter and Settlement and STP-17, Sphere Cash and Market. The day-3, included a session on STP-10, Health; STP-11, using Sphere in practice, STP-12, Sphere and Program Cycle; STP-16, Sphere and Coordination and STP-20 evaluation and wrap up. The sessions were conducted in a participatory way. The engagement and active participation of participants were appreciable. The training was delivered through group work, exercise, role play, powerpoint presentations, and video presentations.
In the closing session, two participants shared their learning and experience about the training and thanked DPNet-Nepal for providing this opportunity. They also shared that, they have learned many new things about the Sphere Standard and also requested for the refresher Sphere training. They also raised the concern that training on Sphere Standard is equally important to the local level and community people to sensitize and capacitate them in order to maintain the minimum standard during emergency response. The program was closed after distributing the certificate of participation along with the closing remarks of Mr. Surya Bahadur Thapa, Chairperson of DPNet-Nepal. In his remarks, he thanked all participants, their organization and contributing agencies for their support. He also shared that we need to focus on providing quality service and have to be accountable during humanitarian assistance.
The event was supported by 11 different contributing agencies namely, Action Aid, Caritas, Christian Aid, Dan Church Aid, International Nepal Fellowship, Lutheran World Federation, OXFAM, Plan International, Save the Children, UNICEF and World Vision International.