GPDRR Updates from Geneva-Day 2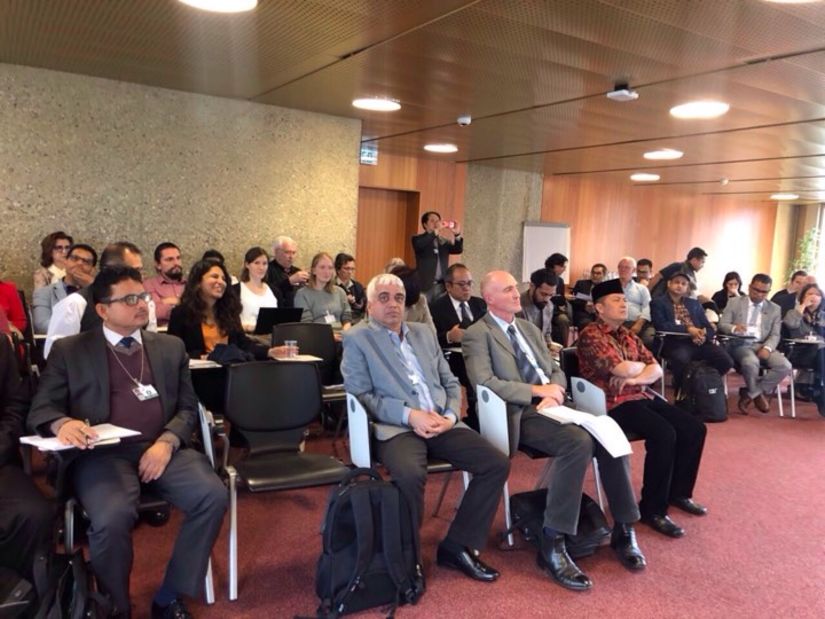 GPDRR 2019 Updates from Geneva
Day-2
The most awaited biennial event the sixth session Global Platform for Disaster Risk Reduction organized by UNDRR and hosted by the Government of Switzerland kicked off on 13th May 2019 at Geneva Switzerland. Participants from different parts of the world have arrived to participate in the event.
DPNet-Nepal has been coordinating for the successful participation of Nepal in GPDRR 2019 (13th-17th May 2019). High level Nepal delegation including Secretary of Ministry of Home Affairs, CEO of National Reconstruction Authority and most of the participants from Nepal have arrived Geneva. On behalf of DPNet-Nepal, Mr. Surya Bahadur Thapa, Chairperson is coordinating the team in Geneva in person as well as through the Viber Group created by DPNet-Nepal.
On 14th May, day 2 of GPDRR, CEO of National Reconstruction Authority, Nepal, Mr. Sushil Gyawali met UNDP Crisis Bureau Director, ASG Ms. Asako Okai at Geneva to discuss inclusion matters, disaster risk, SFDRR and furthering cooperation with UNDP on post-earthquake recovery and reconstruction.
Mr. Bamshi Kumar Acharya, Under Secretary, Ministry of Home Affairs was a panelist on Knowledge Exchange event "Fostering Practical Coherence for Resilience". He highlighted that Nepal is proud to have hosted the 14th Meeting of the Regional Consultative Committee on Disaster Management, a non-binding regional mechanism that is comprised of National Disaster Management Offices (NDMOs) of 26 member countries from the Asia and the Pacific region to promote peer advocacy and exchange of expertise in disaster and climate risk management. In the meeting, member countries showcased good practices the many fronts to coherence across global frameworks and discuss ways to transform policies and frameworks into coherent practices. They also identified challenges including the capacity gaps for implementation, weak data-policy linkages, and mismatches between local governments' plans and national budgets.
Member States recognize that only through the successful implementation of all global agendas will we be able to achieve sustainable development. In that regard, the existing synergies between the global agendas provide an opportunity for coherent implementation and therefore sustainable development. Ignoring the importance of DRM in urban planning, infrastructure development, public investments and other key sectors will lead to opportunity costs that undermine progress towards sustainable development. Therefore, improved coordination is necessary between government institutions, private sector, civil society organizations, and citizens is a key requirement to achieve a coherent implementation of the global agendas.
The 14th RCC Meeting resulted in the adoption of the Kathmandu Statement. In the Statement, member States call for Asian and Pacific countries to enhance coherence across policies, institutions, goals, indicators, and monitoring systems for implementing key global DRR and sustainable development frameworks. Alongside, member States also call upon development partners to support and invest in regional efforts for achieving coherence.
A Policy Brief on coherence was developed and published to disseminate information on key action points from countries in Asia and the Pacific as possible entry points and tangible ways to further coherence.
Recognizing the effort of Aarughat Rural Municipality, Gorkha in initiating Municipal Revolving Fund to support earthquake affected households and the contribution of Mr. Pallav Pant, President of the Sarokar Foundation, for conducting fire safety programs for person with disabilities in Nepal, the biennial United Nations Sasakawa Award for disaster risk reduction includes their name as a nominee for the prestigious award. The final three awardees among more than 61 nominees will be awarded on 16th May 2019 at GPDRR. DPNet-Nepal wishes all the best for the nominees representing Nepal.