GPDRR Update from Geneva-Day 5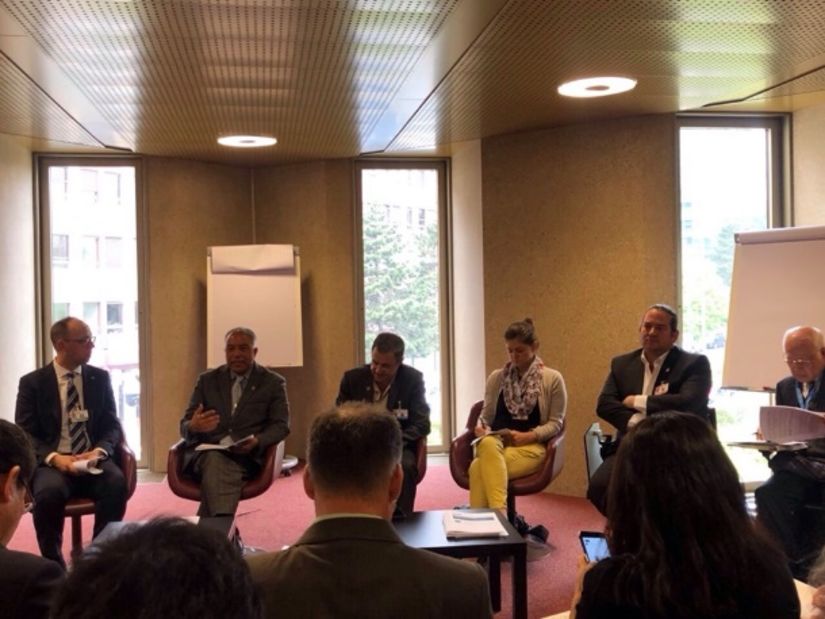 GPDRR Updates from Geneva
Day 5, 17th May 2019
Major Highlights
Securing an Inclusive Build Back Better Dividend
With its aim to present evidence of the benefits to poor and vulnerable groups that can be achieved through build back better, policies, initiatives or programs, highlight the real benefits of build back better programs and explore effective ways to achieve and sustain the benefits of inclusion in build back better, as well as challengers, enablers and barriers a side event entitled "Securing an Inclusive Build Back Better Dividend" was organized in the GP 2019 on 17th May 2019.
CEO of National Reconstruction Authority, Nepal Mr. Sushil Gyawali presented in this session on build back better. He highlighted that 80,000 earthquake affected people has opened the bank account and it's more transparent and accountable. People are actively involved to preserve the historical and cultures places. He also highlighted that political commitment is most important. Furthermore, he shared that capacity building, strong institutional mechanisms and effective coordination are most important to be prepared for next disaster and immediate response. Mr. Juan Caballero, Director of Programs and Partnerships, Latin America at Build Change highlighted the reconstruction of Nepal program, community involvement and skills development of local people.
Additional Information
Mr. Madan Pariyar from IDE Nepal presented on women and men from different ethnicities/caste in relation to flooding in Bardiya district.

Stakeholder Group of persons with disabilities, the focal point for UNDESA, ECOSOC and the GA for all UN sustainable development policies and a member of a UN major groups and other stakeholder coordination mechanism presented the memorandum in closing ceremony of GP 2019.